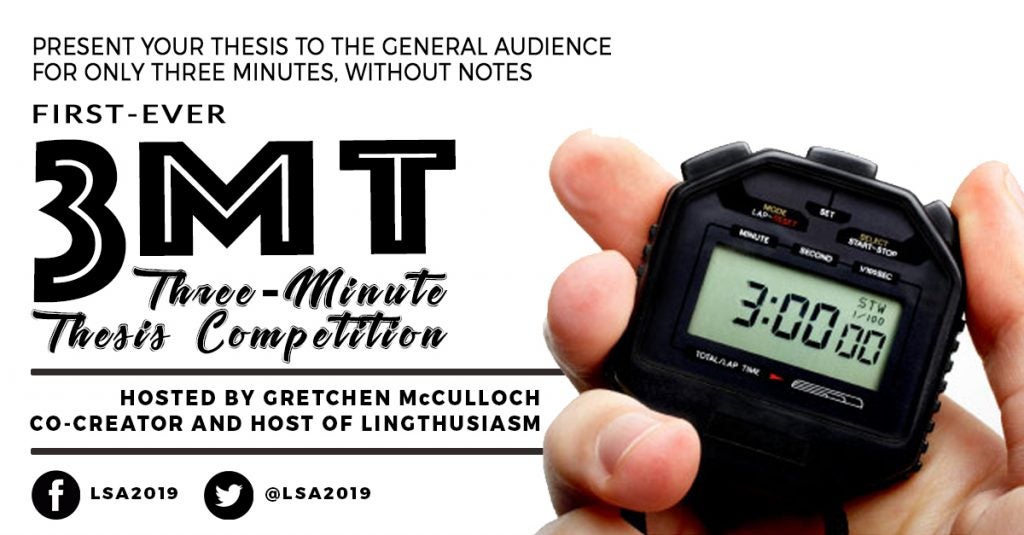 Date & Time: July 17, 2019 (Wednesday) | 7:00-9:00pm
Location: Student Community Center – Multipurpose Room
The inaugural 3-Minute Thesis (3MT) competition provides emerging linguists with the skills to present their research to a diverse and general audience comprised of students, faculty, and non-specialist community members from various backgrounds. Without the help of notes and with only three minutes to present, 3MT contestants must be able to present the fundamental points and significance of their thesis in a clear, direct, and interesting manner.
Contestants must also impress the judges who will strongly consider the effectiveness and clarity of the presentation in choosing the winner. The winner will a receive a free one-year membership to the LSA along with the title of being the first ever LSA Institute 3MT champion.
Gretchen McCulloch, co-creator and host of the Lingthusiasm podcast, will start the event with a talk on public engagement followed by the contest proper.
Application:
Doctoral students specializing in any area of Linguistics are invited to submit a 300-word abstract that will be evaluated by the 3MT committee. 10 abstracts will be selected based on their potential to be accessible to the general public.
Abstract submissions for this contest will be available soon. Watch out for updates and further instructions on this page or by following us on social media: Facebook and Twitter