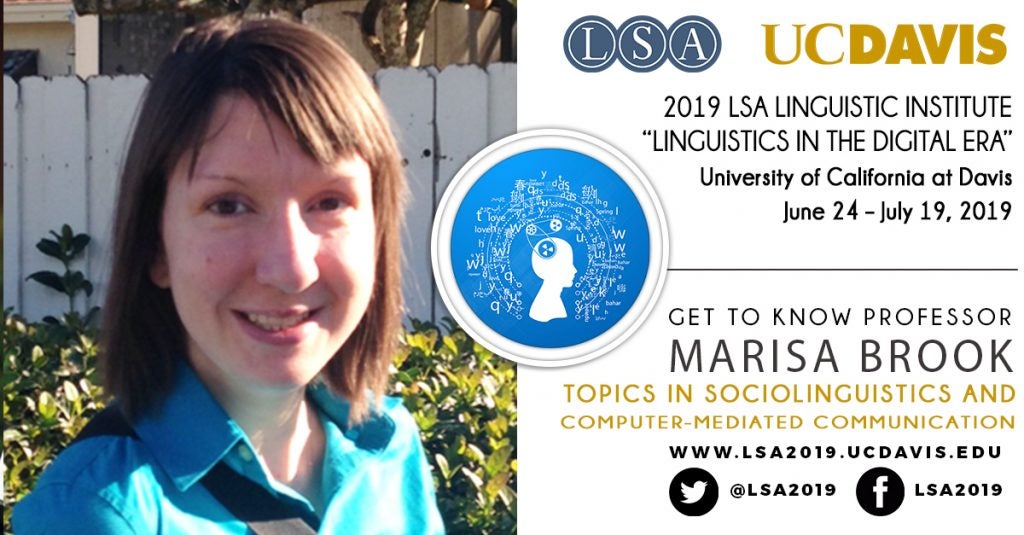 In line with our theme, "Linguistics in the Digital Era," Marisa Brook and Emily Blamire (U of Toronto) will teach the "Topics in Sociolinguistics and Computer-Mediated Communication" course at #lingstitute2019. In this interview, Marisa shares how she discovered her passion for Linguistics, the work she's doing today, and what she looks forward to the most at Davis.
1. Can you please tell us about your linguistic background?
I became aware of the field in my early teens while reading and enjoying a succession of books about wordplay and etymology. These were all pretty lightweight, but at least one of the authors was described as having a Ph.D. in linguistics, which meant that it was on my radar. In the summer of 2004, about to begin my final year of high school and considering what to do with myself afterward, I suddenly realized that I was feeling drawn to linguistics in a way I needed to take seriously. I went on an expedition to the nearest college bookstore, found the linguistics section, and had a good look through the first introductory textbook I spotted. I don't remember which one this was, but it convinced me that I was absolutely going to love this field. Which is exactly what happened up close. I went off to Cornell to do an honors BA in linguistics and never even came close to changing my mind about what I was majoring in. It was an overwhelmingly positive experience. In my final year (2008-09), I wrote an honors thesis supervised by Wayne Harbert on the syntax of informal relative clauses in English, which made it very clear to me how much I loved research. Within a few months of graduation, I'd worked out that I wanted to be studying language change from a quantitative angle. The good news was that this kind of approach existed: it was called 'variationist sociolinguistics'. The less-good news was that it was almost totally unfamiliar to me. I thought about it and went back to revisit a paper I'd read for a pragmatics class that I now knew was a variationist article and that had been pretty much the most captivating thing I'd ever read. One of the authors was Sali A. Tagliamonte at the University of Toronto. I checked out her website on an exploratory basis and walked away with an intense desire to do the kind of thing she and her lab were doing. I set my sights on doing an MA at the U of T in order to try out graduate school in the subfield, but by this point I was feeling so shy and starstruck that it took me a good two weeks to work up the nerve to cold-email Sali. I needn't have worried; she responded warmly and even invited me to visit. I was fortunate enough to be accepted into the MA program for 2010-11, and even though my expectations were high, they were surpassed. Going through my MA program with Sali was a total thrill ride that left me with no doubt that I was doing what I needed to be doing. I had a similarly exhilarating experience in the Ph.D. program, completing it in 2016 (still under Sali's supervision). I've since taught at Michigan State University, the University of Victoria, and now back at the University of Toronto. I feel a constant sense of deep gratitude for the enthusiastic support of Wayne and Sali and so many other mentors, colleagues, and friends all along the way.
2. When did you first join the LSA?
In 2014, partway through my Ph.D. program, in anticipation of submitting my first abstract to the Annual Meeting. I've since attended every year, usually presenting a talk and/or a poster, and have benefitted so much that if anything I'm sorry I didn't start going sooner!
3. Can you tell us about the course you are teaching at the Institute?
In accordance with this year's theme, my wonderful collaborator Emily Blamire and I are co-teaching "Topics in Sociolinguistics and Computer-Mediated Communication." She and I have been working both together and independently on various aspects of online language over the last few years and the class is all about taking key concepts from micro-level sociolinguistics into the online world. For instance, are there different genres/registers of YouTube videos? When is a web forum a community of practice? To what extent is language change on Twitter comparable to language change offline? What does it mean for language that there are multimodal streaming platforms such as Twitch, where people interact in real time but through a mixture of speech and text? And – crucially – what are the ethical considerations necessary for doing research on Internet language, even when it comes from a supposedly public platform?
4. What research are you currently working on?
I've come to think of my research as being all about what happens at the boundaries of variation and change. I like tackling chain reactions and other sorts of collisions in the grammar, and it probably doesn't come as a surprise that all of my favorite variables are slightly offbeat or elusive morphosyntactic phenomena. Both alone and with collaborators, I've been considering all sorts of big questions (rural/urban differences, change in the individual in young adulthood, syntactic chain shifts, language contact, what the heck this 'envelope of variation' thing is anyway), but all through the lens of variables for which the theoretical and variationist literature both have prominent roles to play in the analysis.
5. What is your favorite hobby or pastime?
I have many more hobbies than I have time for, but this is a good problem to have as it means I'm never bored! I love to read and am always surrounded by books; I also do a bit of creative writing when the mood strikes. I enjoy composing music. I sometimes play classic simulation/strategy games from the 1990s. On top of that, over the last 10-11 years, I've been getting increasingly interested in textile crafts, especially sewing and knitting. And I really like graphic design and coding, although the only languages I'm really proficient in at the moment are HTML 4 and CSS and I'm not sure they count.
6. In a parallel universe in which you are not an academic/linguist, what would you be?
A data scientist, mathematician, or web designer. Or maybe a novelist?
7. What are you most looking forward to about Davis?
Colleagues, classes, summer warmth, local friends, and a long-awaited opportunity to get to know the area. I grew up on the West Coast and have seen far more of every other part of it – British Columbia, Washington, Oregon, southern California, and even Alaska – than I have of northern California. It's about time!
8. What advice would you give to graduate students interested in pursuing a career in linguistics?
a) Write down all of your ideas for research projects, even the ones that seem a bit fanciful or trivial, and keep them together in a secure but accessible place. Catch those moments of inspiration; they can be fleeting. Sure, some of those ideas will end up seeming less feasible later on – but this isn't true of every single one of them, and you'll want to keep the exceptions within reach.
b) Go out of your way to find excellent mentors, good friends among your peers, and other sources of support. These are of incalculable value.
c) Look after yourself. Your work is not more important than your health, and this includes your mental health in every way.
Visit Professor Brook's website here.