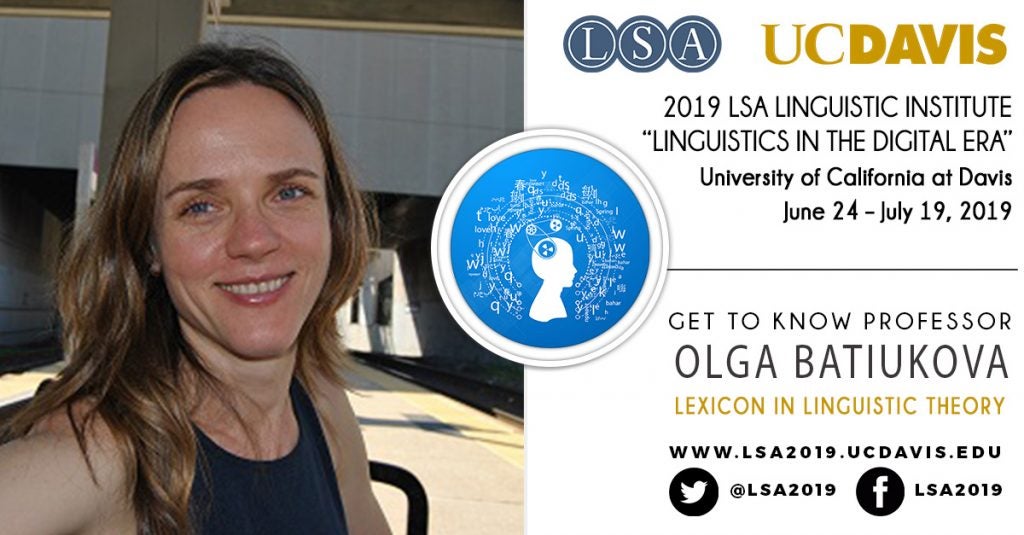 Olga Batiukova (Autonomous University of Madrid) will teach the "Lexicon in Linguistic Theory" course with James Pustejovsky at the #lingstitute2019. Olga looks forward to meeting her students and sharing her passion for lexical theory in Davis. We asked Olga about how she got into the field as well as some tough questions such as "ice cream or cake?" Continue reading to discover Olga's answers.
1. Can you please tell us about your linguistic background?
I have always been interested in foreign languages as a way of becoming acquainted with other countries and cultures. I got my BA in Spanish and German from Minsk State Linguistic University (Belarus) in 2000, where most courses were focused on Second Language Teaching. After graduating, I moved to Spain and enrolled for the PhD program at Autonomous University of Madrid. It was there where I first got in touch with theoretical linguistics: my thesis dealt with several syntax-lexicon interface phenomena within the Generative Lexicon framework. After earning my PhD in 2006, I completed postdoctoral research fellowships in the Laboratory for Linguistics and Computation at Brandeis University (US) and in Laboratorio di Linguistica at Scuola Normale Superiore di Pisa (Italy). I have researched and published in areas involving lexical theory and its impact on lexicography, syntax-lexicon interface, morphological encoding of lexical information, verbal aspect, and psycholinguistic study of aspectual features. I am currently holding the position of Associate Professor in the Department of Spanish Philology at the Autonomous University of Madrid.
2. When did you first join the LSA?
I first joined the LSA in 2011, when I attended the LSA Institute in Boulder as an affiliate.
3. Can you tell us about the course you are teaching at the Institute?
I will be co-teaching the course "Lexicon in Linguistic Theory" with James Pustejovsky. Our book "The Lexicon" has just been published (which we are very excited about!) and this course will touch on some of the issues that we discuss in the book and the ideas that we came up with while writing it. What we hope to accomplish with this course is showing that the lexicon is complex and highly structured, and that it is not a passive component of grammar but rather a dynamic module that incorporates as well as dictates essential components of syntax and semantics.
Check out a comprehensive course description in https://lsa2019.ucdavis.edu/course-description/#310
4. What research are you currently working on?
Lexically and compositionally determined informativeness and lexical selectional mechanisms in morphology.
5. What is your favorite hobby or pastime?
In general, traveling. Right now, spending time with my baby daughter and sleeping when she lets me😃.
6. In a parallel universe in which you are not an academic/linguist, what would you be?
A leisure traveler or a career diplomat.
7. What are you most looking forward to about Davis?
In order of importance:
–Getting to know my students and transmitting them my passion for the lexicon.
–Learning from other instructors and from my students.
–Exploring Northern California!!
8. Ice cream or Cake? Cats or Dogs? Quarter system or Semester system?
These are easy!
Ice cream or Cake? Definitely cake (dark chocolate and raspberry – yummy!)
Cats or Dogs? Definitely cats, even though they are not as friendly as dogs.
Quarter system or Semester system? Semester, to get more done.
9. What advice would you give to graduate students interested in pursuing a career in linguistics?
Linguistics became a huge field nowadays. Follow your vocation and try out everything until you find your place.
Visit my website here (with links to Research Gate and Academia)