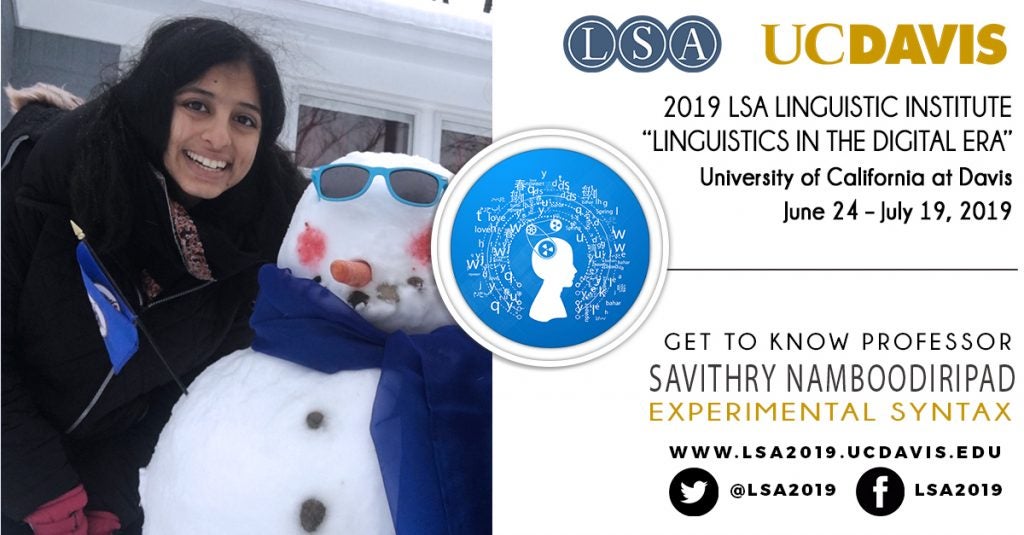 Linguistics is everywhere, especially where we least expect it, and I think having an open mind and a creative approach can lead to really amazing things—Savithry Namboodiripad (University of Michigan).
Savithry will co-teach the Experimental Syntax course with Elaine Francis (Purdue). In this fun interview, discover what Savithry does if she isn't going around asking people if they've seen The Good Place.
1. Can you please tell us about your linguistic background?
I earned my BA and MA in Linguistics at the University of Chicago, and my PhD from UC San Diego. At UChicago, I worked on homesign, and my MA thesis was about how child homesigners expressed complex motion events. In my PhD work, I used methods from experimental syntax to ask questions about language contact and typology. Now, I'm a fellow at the University of Michigan, Ann Arbor, where I'm continuing this research and starting my lab, which will officially get going in Fall 2019, when I'll start as an Assistant Professor.
2. When did you first join the LSA?
I joined the LSA the first year of my PhD program, which was in 2012.
3. Can you tell us about the course you are teaching at the Institute?
I am so excited about this course, which was the result of some magical matchmaking by the LSA Institute organizers! Elaine Francis, at Purdue, and I are teaching a course which is labeled "Experimental Syntax" in the course catalog, but which Elaine and I are calling "Acceptability judgments in syntax: theoretical interpretation and experimentation outside the lab". Elaine's part of the course deals with how theoretical assumptions shape interpretation of experimental results. My part of the course is about taking experimental syntax methods outside of the lab. We will cover some basics of experimental design, and then go over ways to make experiments inclusive for participants who often are not included in psycholinguistics experiments and appropriate for understudied languages. We will design an acceptability judgment experiment together, work on statistical analyses in R, and interpret results.
The course assumes no experience with experimentation or stats, and we welcome everyone to participate, no matter their background! In particular, we welcome scholars studying languages or varieties used by communities of which they are members. There is often a whole other set of considerations to think about in those contexts, and I would love to see more discussion of these issues in psycholinguistic-y spaces.
I should also mention that there is synergy between our course at the workshop at the LSA Institute called "Experimental and corpus-based approaches to Ellipsis", so if you're interested in one, check out the other!
4. What research are you currently working on?
In my main area of research, I use experimental methods like acceptability judgments to investigate variation and contact effects in syntax. Right now, I'm finishing up a paper based on my thesis, in which I proposed a measure of flexibility in constituent order using acceptability judgment experiments that (I argue) can complement current typological descriptions. That paper focuses on Malayalam (which I grew up speaking) and English, but my collaborators and I have some exciting replications in the pipeline with a bunch of different languages!
I also study contact effects in immigrant and recently-colonized contexts, specifically the pervasive effects of English on Malayalam, both in the US and, especially, as it is spoken in Kerala, India. I'm about to launch a big survey on English-origin words in Malayalam, and I'm particularly interested in the interaction between social and cognitive explanations for contact-induced change.
Finally, Corrine Occhino, Lynn Hou, Anne Charity-Hudley, some excellent current and former students at Michigan (Hayley Heaton, Dominique Bouavichith, Dominique Canning, and Marjorie Herbert), and I have been working on a Survey of Linguists and Language Researchers that I hope many of you have filled out. We have over 1400 responses, and we will be presenting the results at a plenary presentation at the 2019 Annual Meeting. We provide some qualitative and quantitative findings to inform and continue ongoing discussions of how to prevent and mitigate instances of harassment and bias in our field.
5. What is your favorite hobby or pastime?
I still feel like I am getting to know Ann Arbor and southeast Michigan in general, so I spend a lot of my spare time exploring (and finding new places to eat!). But mostly, I go around asking people if they've seen The Good Place.
6. In a parallel universe in which you are not an academic/linguist, what would you be?
I have always been interested in urban planning! There is so much that planning can do to increase accessibility, make spaces inclusive, and promote environmental justice, and a lot of it is at a level below what people notice as they move through the world. Plus, you have to take into account how the particular geography of a city interacts with general principles of good design…it's a complex dynamic system, which is very on brand for a linguist with my interests!
7. What are you most looking forward to about Davis?
I heard that Davis has pretty good food, so I'm looking forward to that, but mostly, I am excited to attend my very first LSA Institute, and to spend time with friends and colleagues old and new!
8. What advice would you give to graduate students interested in pursuing a career in linguistics?
Linguistics is everywhere, especially where we least expect it, and I think having an open mind and a creative approach can lead to really amazing things.