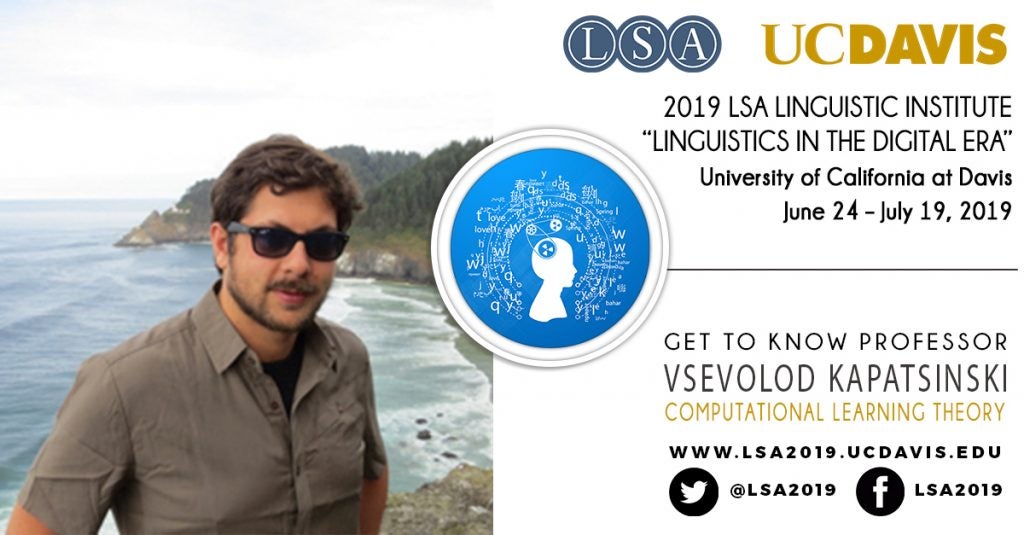 "I love hiking, and all that goes with it. Picking mushrooms, jumping into lakes, camping." Vsevolod Kapatsinski (University of Oregon) is teaching the Computational Learning Theory course at the Institute at Davis. The course will tackle domain-general learning mechanisms and the roles they play in language acquisition.
1. Can you please tell us about your linguistic background?
Growing up in Russia, I fell into linguistics naturally. In middle school, we were trained to split up words into morphs, and I still remember being fascinated by the fact that the root for the word for 'shoes', 'obuv', is a mere /u/. By the time I entered college, I knew I was interested in linguistics but did not know what area to pursue. In my second year, I took a cognitive psychology course and learned that I wanted to work on the cognitive aspects of language. In graduate school, I did an MA at the University of New Mexico with Joan Bybee, who made me usage-based. Jay McClelland was visiting UNM at the time, and I got to go to CMU and learn about neural networks. For my PhD, I looked for places where I could get an interdisciplinary training in cognitive science and also pursue my nascent interest in computational modeling. So I ended up at Indiana, where I spent most of my time in David Pisoni's Speech Research Lab in psychology while doing a PhD in linguistics and cognitive science. After finishing, I got a job at the University of Oregon linguistics department, and I've been here ever since.
2. When did you first join the LSA?
I think it was in 2002 or 2003, just before my first LSA Institute.
3. Can you tell us about the course you are teaching at the Institute?
Computational Learning Theory introduces what we know about basic, domain-general learning mechanisms. It explores what roles they are likely to play in language acquisition and how learning can explain recurrent trajectories in language change.
4. What research are you currently working on?
My lab is exploring the behavioral signatures of alternative learning mechanisms in areas ranging from phonetics to phonology to morphology to lexical semantics. Our current focus is on how learners use prediction error in phonetic cue weighting, stress pattern learning and learning morphological constructions.
5. What is your favorite hobby or pastime?
I love hiking, and all that goes with it. Picking mushrooms, jumping into lakes, camping. Exploring the wilderness.
6. In a parallel universe in which you are not an academic/linguist, what would you be?
As a learning theorist, I've got to say whatever that universe would shape me into. 🙂
7. What are you most looking forward to about Davis?
Meeting new collaborators and learning about everyone's research.
8. Ice cream or Cake? Cats or Dogs? Quarter system or Semester system?
Varies with the weather. Cats! Semesters.
9. What advice would you give to graduate students interested in pursuing a career in linguistics?
There are many aspects to language, but few are unique to it. Language involves social conventions, cognitive structure, and motor performance. It's well worth training yourself to see how all these fit together and learning to bridge the disciplinary divides.